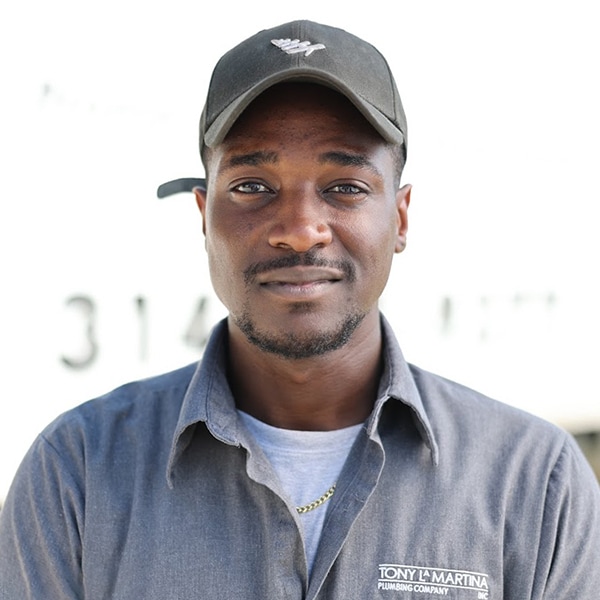 Lorenzo B.
Licensed Plumber
Lorenzo is a graduate of Ranken Technical College with a degree in Plumbing Theory. Lorenzo is a Navy Veteran where he worked as a plumber and carpenter. Lorenzo's interests include, plumbing, jogging, video games, listening to music, and writing.
Getting the appointment was so smooth. I was set up for an emergency service call and was so pleased to get taken care of quickly. Lorenzo arrived promptly for an 8 o'clock appointment. He was professional yet personable. He got the problem fixed without any hassle. He also gave me a quote on another project that we may consider in the future. I would be extremely proud to have this young man on my team!
- Mary F.
As usual, LaMartina Plumbing showed up on the date scheduled with a phone call about 30 minutes beforehand notifying me that they dispatched their technician. I also received a text indicating that Lorenzo would be the technician arriving soon. Lorenzo was very professional and friendly and put on his shoe covers before entering our house. Lorenzo went right to work and did a great job in a short period of time. He left the place as clean as he found it. Great job!
- Jerry H.
From start to finish, my experiences with Tony LaMartina Plumbing Company met, and in some cases, exceeded my hopes and expectations. Every encounter was evidence of professionalism and customer-driven satisfaction. A VERY SPECIAL thank you and mention of the technician who performed my contracted work, Mr. Lorenzo Bledsoe. Stellar workmanship, timely and quality-driven. Thank you, Lorenzo.
- Homer R.